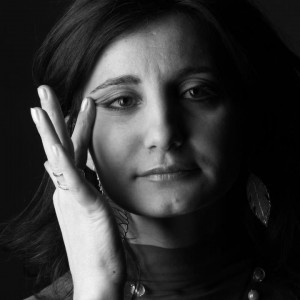 Nata nel 1975 ad Ottaviano, in provincia di Napoli, Tonia Losco si è diplomata al Liceo Scientifico "Evangelista Torricelli" di Somma Vesuviana nel 1994, e ha conseguito la Laurea in Fisica dello Stato Solido presso l'Università degli Studi di Napoli Federico II nel 2003. Ha collaborato in quegli anni con la società Simulation Intelligence, impegnata nelle ricerche di mercato e nei sistemi di comunicazione interattiva, e con il Museo di Fisica del Dipartimento di Scienze Fisiche di Napoli, con l'incarico di aggiornare il catalogo di collezione degli antichi strumenti di grande valore storico e scientifico.
A partire dal 2004 la dott.ssa Losco ha collaborato con il laboratorio N.E.S.T. (National Enterprise for nanoScience and nanoTechnology) della Scuola Normale Superiore di Pisa come assegnista di ricerca sul programma "Laser a cascata quantica e fotonica Terahertz (THz)", e negli stessi anni ha frequentato la Scuola di Dottorato "Galileo Galilei" dell'Università degli Studi di Pisa. Nel 2008 ha così conseguito il titolo di Dottore di Ricerca in Fisica Applicata con una tesi dal titolo "Low frequency THz Quantum Cascade Lasers: band-gap engineering and waveguiding". A questi anni appartengono le sue pubblicazioni nel campo della tecnologia THz [1-7], di cui sotto citiamo le principali. La sua ricerca ha contribuito in maniera cruciale all'implementazione industriale grazie al perfetto controllo nel progettare la radiazione di emissione dei laser a cascata quantica a basse frequenze nella regione del THz. Questo controllo ha permesso un nuovo schema di rivelazione della radiazione THz [7] e l'implementazione di un conveniente rivelatore per un moderno sistema integrato di acquisizione di immagini [6].
Tra il 2007 e il 2009 la dott.ssa Losco ha collaborato con il CIMaINa (Centre for Nanostructured Materials and Interfaces) dell'Università Statale di Milano sul programma di ricerca per la realizzazione di film nanostrutturati fotocatalitici di biossido di titanio per celle solari e dispositivi fotovoltaici. Attualmente, a partire dal 2011, collabora con il Dipartimento di Fisica dell'Università degli Studi di Pavia riguardo a un programma di ricerca sulla risposta ottica amplificata in nanomateriali e strutture fotoniche per detezione chimica.
 Pubblicazioni principali
[1] Advances in THz quantum cascade lasers: fulfilling the application potential, A. Tredicucci, T. Losco, al.
Proceedings of SPIE, volume 5738.Novel In-Plane Semiconductor Lasers IV, Carmen Mermelstein, David P. Bour,
Editors, 146 (2005)
[2] Electron-lattice coupling in bound-to-continuum THz quantum-cascade lasers, Miriam S. Vitiello, Tonia Losco, et
al., Appl. Phys. Lett. 88, 241109 pp3 (2006)
[3] Controlling surface plasmon modes in terahertz quantum cascade lasers, Olivier Demichel, Lukas Mahler, Tonia
Losco, et al. Opt. Express 14, 5335, pp.11 (2006)
[4] "Tailoring the emission of terahertz quantum cascade lasers" in Terahertz Frequency Detection and Identification
of Materials and Objects , R. Green, T. Losco Springer, Dordrecht, (2007), 41 –54 A
[5] THz quantum cascade laser designs for optimized injection, Tonia Losco, et al. Physica E: Low-dimensional
Systems and Nanostructures 40, 2207, pp.3 (2008)
[6] F. Voltolina et al., 978-1-4244-2120-6/08/ ©IEEE
[7] Resonant tuning fork detector for THz radiation, U. Willer, T. Losco, et al. Opt. Express 17, 14069, pp.6 (2009)